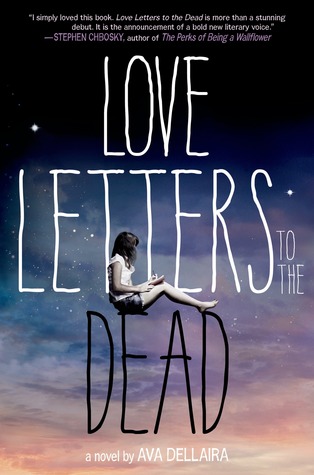 GoodReads Says:

It begins as an assignment for English class: Write a letter to a dead person. Laurel chooses Kurt Cobain because her sister, May, loved him. And he died young, just like May did. Soon, Laurel has a notebook full of letters to people like Janis Joplin, Amy Winehouse, Amelia Earhart, Heath Ledger, and more; though she never gives a single one of them to her teacher. She writes about starting high school, navigating new friendships, falling in love for the first time, learning to live with her splintering family. And, finally, about the abuse she suffered while May was supposed to be looking out for her. Only then, once Laurel has written down the truth about what happened to herself, can she truly begin to accept what happened to May. And only when Laurel has begun to see her sister as the person she was; lovely and amazing and deeply flawed; can she begin to discover her own path.
You know that girl from high school, the one that was so emotional that everything she said was intended to have a specific gravity...intended to make you think (even if the content of what she was saying was about a homework assignment?) She took herself so seriously, and came from the viewpoint that literally everything was life or death?
That girl is Laurel. Laurel's voice is .....dramatic. Emotional. Succinct, but with an edge of drama. The tone reminds me of The Fault in Our Stars, but not as good.
In the beginning, I enjoyed the book, but wasn't enthralled. As the story progressed, I got bored and so.tired. of Laurel's voice. Towards the end I was thinking "a-ha!" It was a pretty satisfying ending (though not without the dramatic touches). It was all nicely wrapped up, and the story felt complete.
I give this book 3.5 stars. I'm glad I read it, it made me think about a few things, and it would be good for a certain audience (this is one of those YA books that would better suit an ACTUAL YA audience. Slate, I'm looking at you.) I just feel like someone on the same emotional-field as a teenager would appreciate this book more than your average adult.
Have you read this? What do you think?