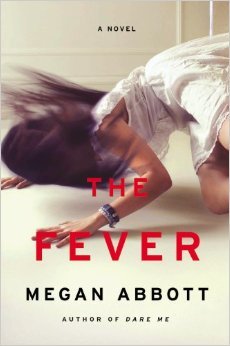 This ARC galley was provided to me by the Little, Brown and Company publishers via NetGalley for an honest review. Release date is June 17, 2014.
GoodReads Says:
The Nash family is close-knit. Tom is a popular teacher, father of two teens: Eli, a hockey star and girl magnet, and his sister Deenie, a diligent student. Their seeming stability, however, is thrown into chaos when Deenie's best friend is struck by a terrifying, unexplained seizure in class. Rumors of a hazardous outbreak spread through the family, school and community.
As hysteria and contagion swell, a series of tightly held secrets emerges, threatening to unravel friendships, families and the town's fragile idea of security.
I have been so.eagerly anticipating this release! For some reason, I thought it was a YA book (um. totally not), but was pleasantly surprised that it was (clearly) written for an adult audience. Though it takes place in a high school, there is a strong theme of virginity and narratives about sex that I wouldn't necessarily want my teenager reading (though I don't believe the author intended the novel for that audience).
The story is told through three different members of the Nash family; teenage Deenie, older brother Eli and dad Tom. One after another, Deenie's friends start falling ill with a mysterious illness that makes them convulse, seize, hallucinate and suffer facial and bodily tics. There are numerous themes throughout the story; virginity, friendship, family, high school drama, parenting issues, vaccinations and the world being a dangerous place for children. I think perhaps the author had too many themes, but on the other hand, they all really fed into the resolution of the story line (which, though complete, seemed a little "last minute.")
The story benefited from three separate narrators, but I wish there was more of a distinction between the three voices in the layout of the pages. It's entirely possible that the format of the digital galley was mapped differently than the print version will be. Though it was fairly easy to tell who was "speaking," I would've benefited from more of separation (particularly because the voices of Tom and Eli seemed so similar, even though their characters were so different).
I was also totally annoyed by all of the teenage girls in this story (including Deenie), but I think that was the point. It made me look back on my time in high school, and the high school environment was the perfect environment for "the fever." (And, perhaps, "fever" wasn't the best word to use in the title. Though far less catchy, "fervor" would fit better).
Overall: I give this book four stars and I would recommend it to others. It was thought provoking and entertaining; I
really
wanted to know what the heck was going on! It gives the reader ample time to reflect on their opinions of certain topics, while still maintaining enough distance to be fiction. I think it would be a great book club pick!
Favorite Quote: "Growing up felt like a series of bewildering afters."